Why Avalon
Building since 1983, we have been leading the standard in Net Zero homes for over two decades. As founding members of multiple green committees, including the national chair of the CHBA Net Zero Council, we are industry leaders in comfortable, affordable, and energy-efficient homes.
Improve Your Living Experience
We build every home with the same philosophy. We use energy-efficient products and earth-friendly building materials so you can be proud of where you live, help the environment, and save money. We combine performance and technology with affordability, comfort, style, and sustainability. The result is peace of mind, an enhanced lifestyle, and a home you'll be proud to share with your family and friends.
Save more than the earth
A Net Zero home is designed, modeled, and built to produce as much energy as it consumes annually and is up to 80% more efficient than a typical new home.
Net Zero for Zero Dollars
When you add up the cost of the mortgage payment and the utility savings, the cost of owning an Avalon Net Zero Home is $0. You get an exceptional living experience for no extra monthly cost than a traditional townhome.
Curated to last
Each Avalon development gives you a choice of floorplans in both 2- and 3- storey City homes and one-level Flat styles. We select materials and features designed to preserve your home's style and value long after you move in. Create a lifelong home that shows off your flair and style with features and options just as unique as you are.
Greener, cleaner townhomes
Being energy-efficient doesn't mean compromising on comfort. Our Net Zero homes have better air quality, no cold corners, and less outside noise for a healthier, more comfortable home. For us, building green means reducing energy, water, and pollution and being healthier and more comfortable.
Greater Comfort | Healthier Living | Same Net Cost
Where to Rent
Building to Net Zero
We've built a complete package of energy-efficient, durable products and features for our townhomes
Insulation levels 50%-60% higher than traditional homes

Fresh Air System HRV continuously exchanges stale air for fresh filtered air

Air-Source Heat Pumps & Heat Pump Water Heaters to pull heat to and from your home

Double-Coated, Triple-Pane Windows

Solar Panels

Energy Efficient Appliances

LED Lighting that meets Energy Star™ standards

And best of all? The same net cost as standard non-net zero townhomes
Third-Party Verified
Every Avalon home is third-party EnerGuide™ rated, giving you the assurance of a guaranteed energy efficiency rating on your new home. An EnerGuide™ rating shows a standard measure of a home's energy performance. It shows you (and future owners) exactly how energy efficient your home is.
Our Awards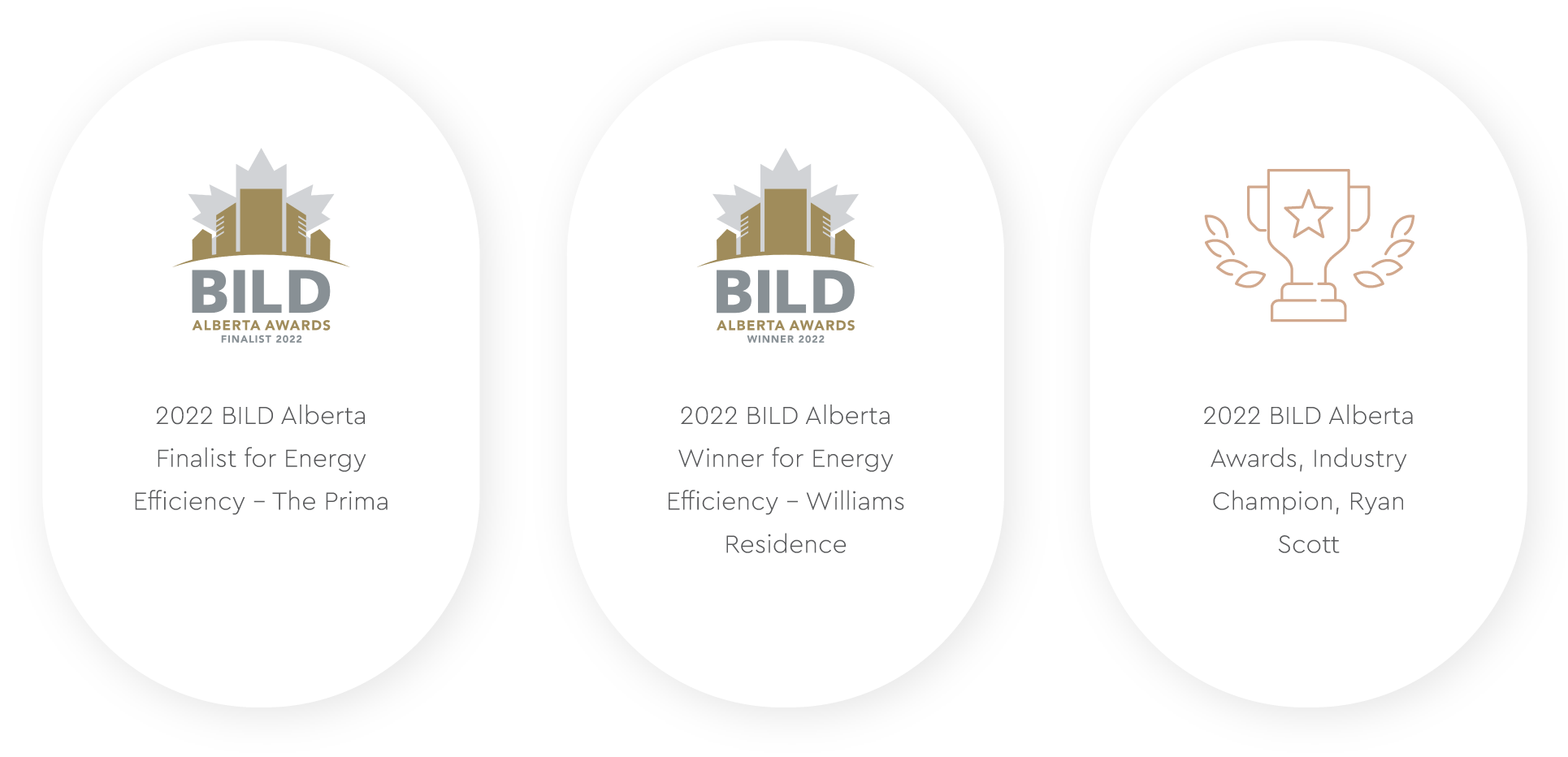 2014 Emerald Award, Public Education and Outreach – Discovery 5 House
2013 Roxul Elite Builder Award – Cross Border Challenge – Discovery 5 House
2013 Home Owner Mark of Excellence – Platinum
2012 First LEED for Homes Platinum Certification in Alberta (CaGBC) – Discovery 5 House
2012 Calgary Awards Environmental Achievement
2012 Emerald Award – Individual Achievement, Ryan Scott
2010 NetZero Energy Coalition NetZero Award – Discovery 4 House